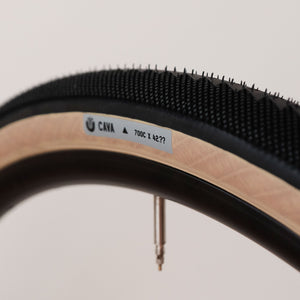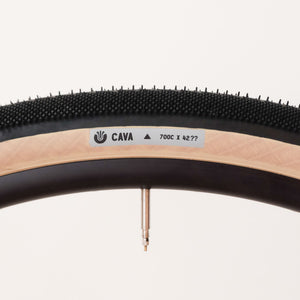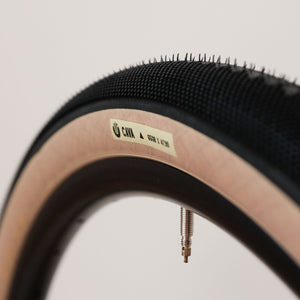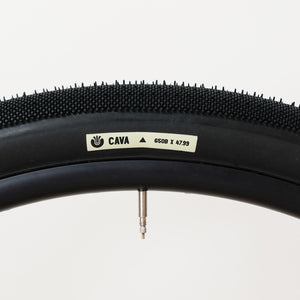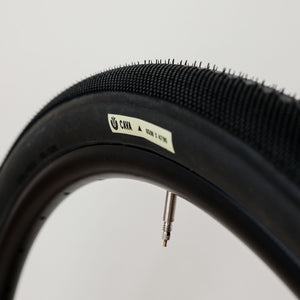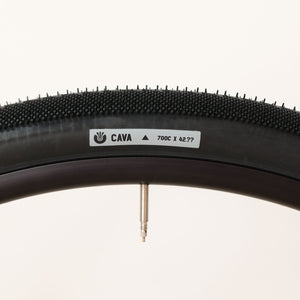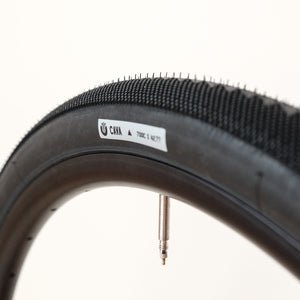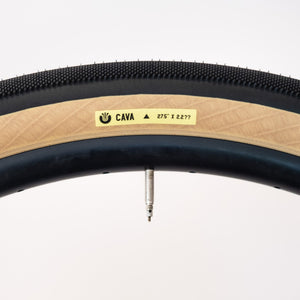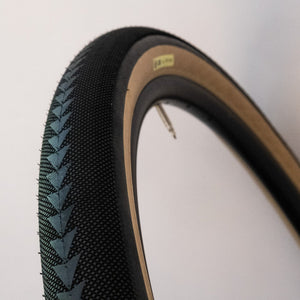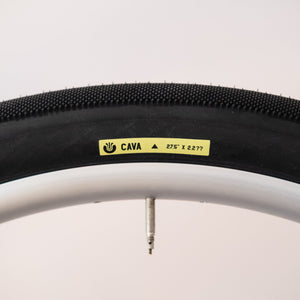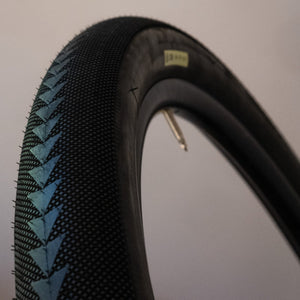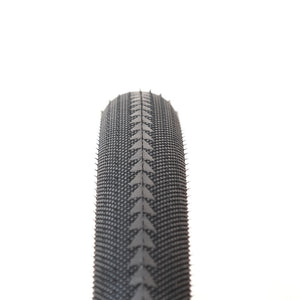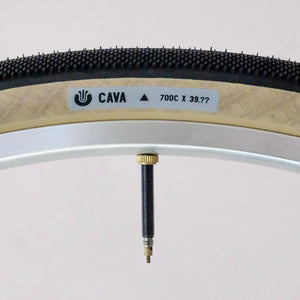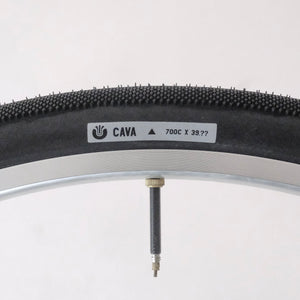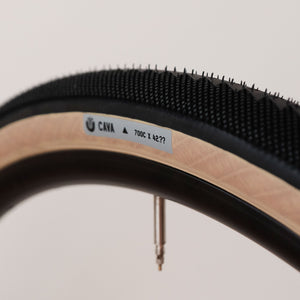 CAVA JFF
Our Catalan Cava is a fine wine indeed. A minimalist tire for those who want the free speed of a high volume slick but need a tire that is more predictable in looser corners.  Designed to be used as a pair, or as the rear compliment to a Rosé front tire for extra cornering and braking traction.  
-JFF means Just For Fun, but not only for fun- these tires are equally equipped for long days locked in the pain dungeon as they are for a Sunday tour of Portland's vegan doughnut shoppes.
-JFF is our most accessible offering; think of it as the industry standard in terms of casing and rubber spec.  This is an approachable luxury- the cubic zirconia of our catalogue.
 -3D diamond file tread massages granular terrain for perceivably 20-30% more traction than a slick  
-Slightly higher volume than the Rosé, giving it the same effective outside diameter, leaving geometry unchanged when pairing with Rosé up front.  
-Carbon compound for longer (normal) tread wear
-JFF more durable casing than our RACE offerings.  Fixing flats, while character building, has never been fun
-Less susceptible to tread slashes than a true slick
-Zero sidewall protection and no puncture protection on top for premium ride quality
-Leak free sidewalls 
-Designed to be inflated/deflated to tastefully low pressures: 25-35 psi (650b); 30-40 psi (700c)
-Tubeless compatible
-Continuous center negative dark space aeronautic deltas for pure intoxicating SPEED 
-27.5 x 2.25" (650b x 57mm), 650b x 47.99mm, 700c x 42.??mm and 700c x 38.?? available
-Black and Tan sidewalls available, JFF
-Tires packaged and sold individually
-565g, 510g, 465g, and 360g

  ***700c x 38.??***
We designed this tire to be a large volume ROAD tire suitable for light, groomer dirt roads, but at this low volume we don't really think of it as a gravel tire.  The sizing is sorta funny, it is badged a 700c x 39, but on most modern rims it's been measuring a little smaller upon initial mounting, more like a 37-38mm but after some use these stretch out to almost a 39mm width.